Flatbed Towing
A Better Way to Transport Your Vehicle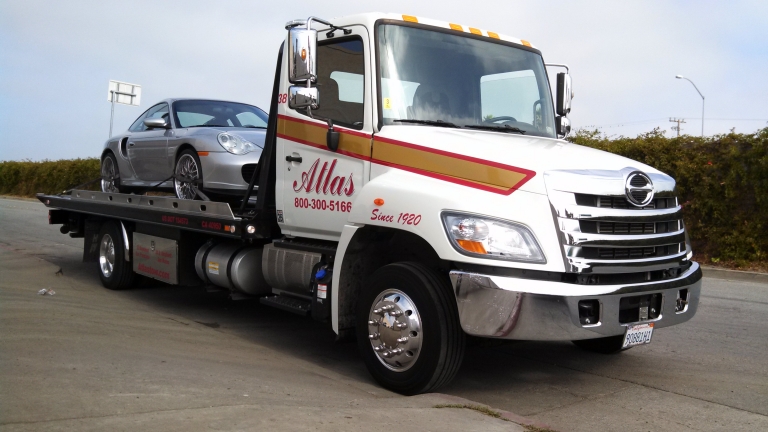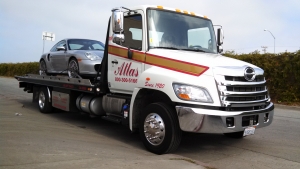 You're driving on the highway, when the person in front of you slams on their breaks. Stuck with nowhere to go, you have three choices: crash into the barrier to the left of you; swerve into the right lane, putting yourself at risk of being t-boned; or rear-end the guy in front of you.
You chose the latter.
Once the damage was done, the facts began to arise. The car causing the accident popped a tire on the highway, creating a four-car accident on one of the busiest interstates around.
Thankfully, one of the drivers contacted Atlas, a towing company that they have used before, and Atlas is on the way with one of the most flexible and efficient tow trucks available. 
The Flatbed Basics
Flatbed tow trucks acquire their name from their bed's flat appearance, making them the favorable choice for a safe and secure tow. Flatbeds are able to provide extreme accident recovery and vehicle transportation when necessary. The long truck beds provide the space that is needed to efficiently tow multiple vehicles simultaneously in instances where multiple cars breakdown, or two or more vehicle accidents are present—leading to an exceedingly cost-efficient towing approach.
Getting the Job Done—Flatbed Style
The truck's empty flatbed is designed to roll back on an angle, effortlessly providing the vehicle with the ability to use its own power to drive directly onto the bed or to be winched up. This allows for the vehicle to be lifted entirely off of the ground, while avoiding any wear or tear that can occur through other towing techniques. After the vehicle has been loaded, the bed will lower back to its resting position—horizontal to ground level. The vehicle is then secured, and is ready to be towed to its desired destination.
With an ability to hoist a vehicle entirely off of the ground onto the truck bed, flatbed trucks are ideal for circumstances where utilizing other means of towing are either not possible due to the current state of the vehicle, or the vehicle's model and fragile nature of its characteristics. These tows are commonly directed toward classic, exotic or all-wheel drive vehicles, as well as motorcycles, vehicles with very low ground clearance, and auto-accident vehicles that are significantly damaged.
Flatbed Towing Services
Our flatbeds can efficiently transport or tow:
Exotic, classic, show and low-rider vehicles
Fully dressed motorcycles
Forklifts and equipment
Vehicles with missing wheels
Man-lifts
SUVs and all-wheel drive vehicles
Assist with unloading vehicles/equipment out of Trailer Containers, or storage
Trust Atlas for Flatbed Towing Success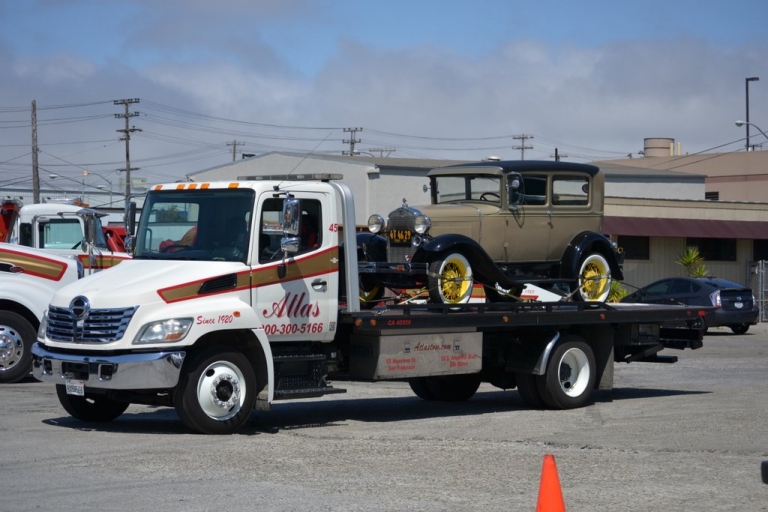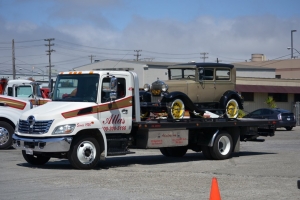 At Atlas Towing, our flatbed trucks are key in helping us to provide quality service that meets and exceeds clients' expectations. With a powerful fleet that includes specially-built, low-profile-designed flatbed trucks with a decreased loading angle, we are able to provide the best towing services for heavier, longer, or lower rising vehicles.
Our extensive vehicle knowledge, our state-of-the-art equipment, and our gentle touch while handling vehicles has earned us lifelong, loyal customers and accounts in the Bay Area—several of which include local, exotic and high-end car dealers who have deemed us their preferred towing company for all of their flatbed transportation and towing needs.
When You Need a Flatbed Tow, Let Atlas Know
Contact us at 800.300.5166 today, and we'll be on our way.