Equipment Transport
Carrying Equipment's Weight on Our Backs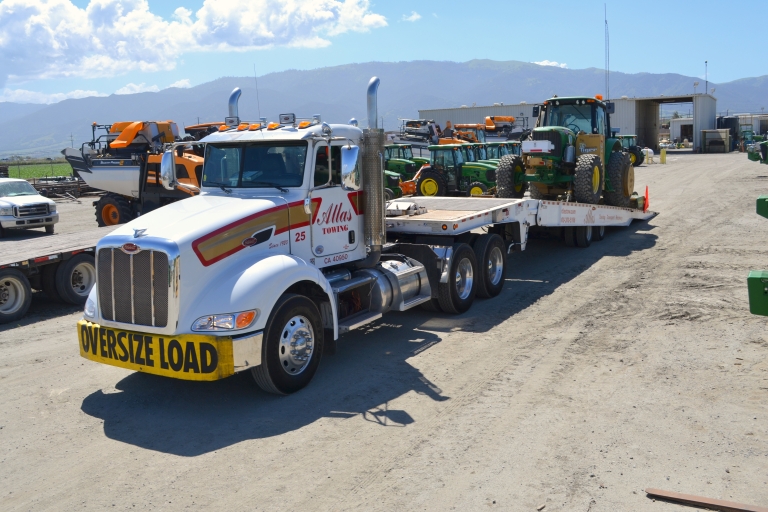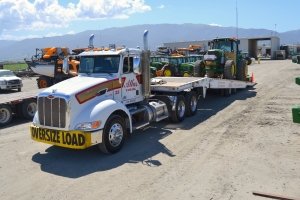 Your construction company is working diligently to complete two jobs at the same time. So far, everything has been running smoothly—until today. The San Mateo job site is in need of your company's backhoe; however, the backhoe is sitting at the other job site—in San Francisco.
It doesn't take long for you to realize that transporting the backhoe by yourself is out of the question; you're in desperate need of a lift.
Thankfully, Atlas Towing is equipped with the power, equipment, and dedicated team members to transport your equipment wherever it needs to go, any time of day.
The Equipment Transport ABCs
Whether it's density, dimension, destination, or all three, no two equipment transportation requests are the same. That's why the key to transporting equipment properly is ensuring that the correct tools are used for the job: the proper transport truck, the use of any necessary attachments to facilitate the transportation process, and a knowledgeable team with the equipment's safe delivery as their top priority.
The Grit Behind the Haul
Atlas Towing's team is ready to handle any of your heavy equipment transportation needs with professionalism, while retaining a close eye on the details of your specific request. That's because, when it comes to heavy equipment transportation, our team is more than operators, we're specialists.
From flatbeds to tractor-trailers, Atlas Towing's diverse fleet of trucks enables us to match your equipment's transportation needs with the necessary truck and assets to quickly and effectively perform the job—no matter the equipment's shape or size. Even more, at Atlas Towing, our team is thoroughly trained on proper towing and safety procedures to ensure that your asset is handled properly and delivered to its desired location, safely.
Can Your Equipment Be Transported?
Atlas Towing's equipment transportation service specializes in towing and transporting a variety of construction and commercial equipment, including:
Rollers
Backhoes, Dozers
Boom Lifts, all sizes
Loaders
Skid Steers
Forklift, Reach Forklifts
Scissor Lifts
Light Towers
Compressors
Generators
…And more!
Oversized Care for Your Oversized Load
When you call Atlas Towing for assistance, you're not just hiring a towing company with the power to transport your equipment; you're hiring a team of experts that will take your request and make it our priority. From obtaining necessary permits, to researching the fastest route to your equipment's intended location, our towing experts will work with you to find a solution for your needs—while taking care of all of the tedious tasks in between.
Contact Atlas Towing for Your Equipment Transport Needs in San Francisco Bay Area.
Don't let the burden of the task hold you down. Instead, let Atlas Towing carry your weight on our backs.
For assistance with your need for equipment transportation, fill out our online form or call us at 800.300.5166 today!